THE GIANT NO ONE SEES: RED REVOLUTION COMES TO "GREEN GIANT" BRAZIL
International News Analysis Today

November 3, 2009

By Toby Westerman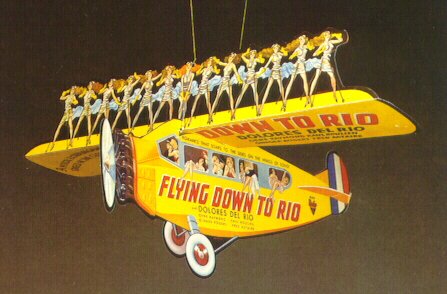 Modern Brazil is an increasingly powerful nation and is a staunch supporter of the neo-Communist tide in Latin America. Brazil may not be a pressing topic for many Americans, except possibly when Chicago lost to Rio de Janeiro in the contest for hosting the 2016 Olympics, or during New Year's Eve when some television network shows the 1930s musical, "Flying Down to Rio," but today's Socialist Brazil and its friends deserve close attention.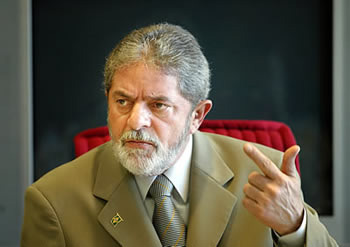 Luiz Inácio Lula da Silva, better known simply as Lula, is the Socialist, very pro-Chavez, president of Brazil. Elected in 2002 and again in 2006, Lula will be in office until at least 2011. Praised for his "pragmatism" in Brazilian politics, Lulu, nevertheless, has pursued a foreign policy supporting neo-Marxist Venezuelan president Hugo Chavez and his "21st Century Socialism."
Lula and Chavez have established a "strategic relationship," and recently agreed upon a joint Brazilian-Venezuelan oil venture worth billions of dollars. Lula and Chavez have joined with Daniel Ortega, the returned Nicaraguan Marxist dictator, to form an anti-U.S. Latin American military alliance - all with Russian assistance - funded by the region's abundant oil reserves.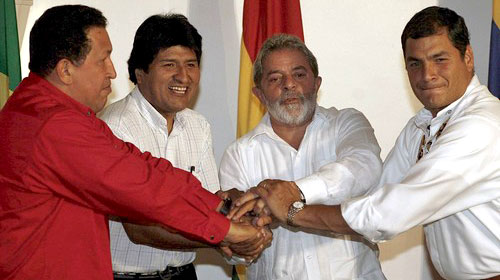 Brazil is engaged in its own arms build-up and Lula is determined that Brazil will become at least a first-rate regional power. Unfortunately, Lula is establishing Brazil as an anti-American military power by aligning with nations hostile or potentially hostile to the U.S. Lula has developed close ties with not only Chavez, but also with his political clones, Evo Morales in Bolivia, and Rafael Correa in Ecuador.
Lula supports the international pariah, Iranian president Mahmoud Ahmadinejad, and defends the right of the Islamic Republic of Iran to develop a nuclear capability. Iran has expressed its willingness to share its atomic technology with Brazil - as well as with Venezuela.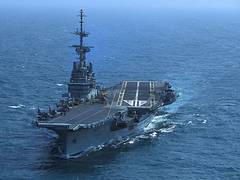 The Lula regime is also assisting Chinese Communist aspirations to build a blue water navy that could challenge the U.S. fleet in the Pacific. Brazil has permitted Chinese pilots to use the aircraft carrier Sao Paulo for training, while China drives to produce an aircraft carrier task force.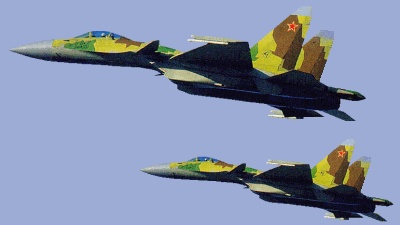 Brazil has purchased advanced SU-35 jet fighters from Russia, as well as entering into a licensing agreement for their production in Brazil. Moscow is also assisting Brazil in its nuclear ambitions by establishing a working group to advance joint atomic cooperation and development.
Lula flagrantly intervened in favor of the would-be Chavez clone Manuel Zelaya and against the pro-democracy forces in Honduras. Zelaya was allowed to secretly enter the Brazilian embassy in the Honduran capital of Tegucigalpa and conduct a campaign to return to power. The present Honduran government claims that Zelaya is not only encouraging public demonstrations, but also laying the foundation of a guerrilla army - all from his quarters at the Brazilian embassy.
Brazil has joined with Russia, China, and India into an economic alliance referred to as BRIC. The Lula regime has suggested to his fellow BRIC members that trade between the nations be use a currency other than the U.S. dollar, increasing pressure against and undermining the American currency as an instrument of international trade.
Lula did not leave out Communist Cuba from his socialist-oriented foreign policy. Lula has extended loans to Cuba and is willing to assist the tropical gulag in becoming an integral part of Latin America.
Despite his support for continental Socialism, an impressive military buildup, and nuclear aspirations Brazil remains a poor country with profound problems. The recent riots in pre-Olympic Rio prove how deep and violent are the difficulties.
It would be a fundamental error, however, to underestimate Lula's Brazil. The United States cannot ignore what is nothing less than a seething Latin America. If the U.S. does not provide leadership by dynamic example, the Latin American continent. and the Brazilian "green giant," will remain the prey to Socialist ideology which has not worked, is not working and will not work.
WHAT REVIEWERS SAY: "FAST-PACED AND HIGHLY READABLE"; "PROVIDES A BROAD, ENCOMPASSING PANORAMA..."; "IF YOU ARE INTERESTED IN HOW WE GOT TO THE POINT WE ARE TODAY...THIS IS THE BOOK YOU MUST READ."
LIES, TERROR, AND THE RISE OF THE NEO-COMMUNIST EMPIRE: ORIGINS AND DIRECTION,&nbsp
By Toby Westerman.
The author reveals the origins and direction of the terror alliance between militant Islam, resurgent neo-communist nations and revolutionary groups. This work focuses on questions the media dare not ask, including: Who controls Russia? Did the Cold War really end? Is it possible to negotiate with radical Islam? How does radical Islam work with neo-communist nations and rebel groups? What does history teach us? Westerman's book is essential reading for these times.

[TO ORDER, EITHER CLICK TITLE, OR SEND YOUR CHECK FOR $29.95 TO:
INTERNATIONAL NEWS ANALYSIS
2364 JACKSON ST. #171
STOUGHTON, WI 53589]
---
PLEASE HELP US DO THE RESEARCH AND PROVIDE THE BOOKS AND REPORTS THAT OTHERS CANNOT OR WILL NOT PRESENT TO YOU. YOUR HELP IS VITAL AND APPRECIATED. PLEASE CONTRIBUTE TODAY TO OUR PARENT CORPORATION, INTERNATIONAL NEWS ANALYSIS INSTITUTE CORP, A Tax Deductible, 501 (C) 3 ORGANIZATION.

WE DEPEND ON YOUR SUPPORT.
OR
MAIL TO:
2364 JACKSON ST. #171
STOUGHTON, WI 53589
---
Add your name to our Exclusive Reports email list:
Email us at inatoday@verizon.net
---
Mr. Toby Westerman, author of LIES, TERROR, AND THE RISE OF THE NEO-COMMUNIST EMPIRE: ORIGINS AND DIRECTION, is the editor and publisher of International News Analysis Today (www.inatoday.com).
International News Analysis
(Copyright 2009)
Return to INA TODAY.com homepage