TARGETING THE U.S. MILITARY: SMUGGLED ARMS AND A NARCO-TERROR ARMY
International News Analysis Today
UPDATED
August 5, 2009
By Toby Westerman
Working in cooperation with the International Police organization, Interpol, the Colombian government has documented that weapons it has captured from Communist guerrillas over the past decade have come from at least 20 nations - including the United States.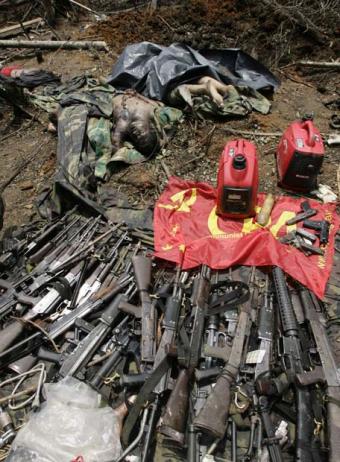 These weapons have been used against U.S. citizens in the past, and an increasingly tense Latin American region threatens that similar -- or even more sophisticated weapons -- will in the near future take lives of U.S. military personnel stationed in the region.
For 40 years, Colombia has fought the narco-terror guerrilla army known by its Spanish acronym, FARC (in English, the Revolutionary Armed Forces of Colombia). The FARC, however, is far more than a group of ideologues picking through jungle undergrowth, waiting for the next opportunity for an ambush.
The FARC is a sophisticated Marxist terror organization with agents and sympathizers around the world, as its global arms purchases suggest. Money flowing from the sale of narcotics, as well as kidnapping and other forms of intimidation, finance FARC political and military activities, which have included diplomatic representatives in Europe and the training of drug cartel fighters in Mexico.
Arms have come from various sources to the FARC through Panama, which borders on Colombia, as well as from neighboring Venezuela. A significant amount of weaponry, however, is shipped into Colombia from an area called the Triple Frontier, a region where Paraguay, Argentina, and Brazil share a common border.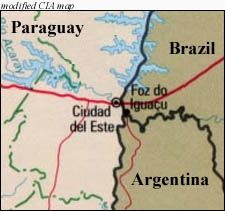 The Triple Frontier also is an area with a large Muslim population, some of whom are sympathetic or work closely with fundamentalist Islamic groups. In addition to arms, passports and personal identities are also bought and sold. For years FARC agents have had the opportunity to develop a relationship with Muslim jihadists in this region, sharing a common hatred for one particular enemy - the United States.
Cooperation between the FARC and Islamic fundamentalists in the acquisition of weapons and false identity is an extremely strong probability, which has frightening security implications for the still-vulnerable U.S. southern border.
FARC money has assisted the election of Raphael Correa to the presidency of Ecuador, which neighbors Colombia to the west. Since Correa came to power, FARC units have used Ecuador to stage raids on Colombia and for a safe haven after those attacks. U.S. armor-piercing rockets provided to a previous pro-American government in Ecuador have found their way into the hands of the FARC.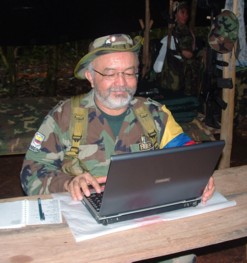 A Colombian counter-raid on a FARC camp in Ecuador in March 1, 2008 resulted in the death of the number two FARC leader who went by the name "Raul Reyes." The Colombian army confiscated Reyes' laptop computer, discs, and travel drives, which contained volumes of incriminating material, including FARC connections to politicians and methods of weapons acquisition.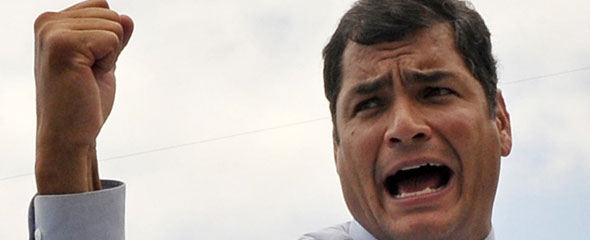 The raid also inflamed Correa's anger at Colombia, a wrath which has still not cooled. Correa is no happier with the United States, and has expelled U.S. military personnel from their anti-drug base in Manta, Ecuador.
The FARC and Correa are both close allies of Hugo Chavez, the Marxist president of Venezuela. Under Chavez, FARC guerrilla groups stage attacks from Venezuelan territory into Colombia. There are numerous reports that the Chavez regime has gone into the drug business with the FARC, and that Venezuela is now an export area for drug shipments to Europe and the United States.
Colombian president Alvaro Uribe has enraged both Correa and Chavez by allowing U.S. troops to expand their presence in Colombia to compensate for the loss of the Ecuadorian facility. U.S. military personnel are now nearer to Chavez's Communist, drug exporting regime.
As a result of the actions of Correa, Chavez, and the FARC, U.S. troops are in the midst of a simmering cauldron of Communist guerrillas, the acquisition of increasingly sophisticated weaponry, and aggressive Marxist governments, all of which are directed against the pro-American government of Colombia.
A report from the Colombian newspaper, El Tiempo, states that Colombian military intelligence that the level of arms going to FARC, and which our service personnel could face, "eventually" will include surface-to-air missiles "similar" to those sold to Venezuela by Moscow.
FIND OUT WHAT THE CENTRALIZED MEDIA IS NOT REPORTING -- READ: Lies, Terror, and the Rise of the Neo-Communist Empire: Origins and Direction. Or, go to your favorite online book seller.
Mr. Westerman is the author of LIES, TERROR, AND THE RISE OF THE NEO-COMMUNIST EMPIRE: ORIGINS AND DIRECTION, available at this site, as well as Amazon.com and other online booksellers. Westerman is the editor and publisher of International News Analysis Today (www.inatoday.com).
WE DEPEND ON YOUR HELP: PRESS THE "DONATE" BUTTON! THANKS IN ADVANCE:
---
International News Analysis
(Copyright 2009)
Return to INA TODAY.com homepage