Return to INA TODAY.com homepage
The following selections are made available for our readers' consideration. If you find them interesting -- support this site, buy a book -- or books!

Islam Unveiled: Disturbing Questions...

The Sword of the Prophet: History,...

Jihad: The Trail of Political Islam
International News Analysis -- the in-depth print report -- covers threats to our nation and views other media, from the right or the left, won't address.
INA has no hidden agendas, "sacred cows," or "unspoken understandings" that restrain our news coverage. We filter nothing. INA uses sources others cannot -- or will not -- use to report on topics the other news organizations won't touch.
Order 12 issues of International News Analysis for only $29.95 (U.S. funds; $39.95 Canadian and overseas).
International News Analysis provides in-depth background on the events reported by INAToday.com. International News Analysis gives readers unique perspective on world events, since 1996.
Send subscriptions to:
International News Analysis.
2364 Jackson St. #301
Stoughton, WI 53589 U.S.A.
Save on Your Taxes With A Donation to International News Analysis Institute Corp!
Inatoday.com is sponsored by International News Analysis Institute Corp, a tax deductible, nonprofit 501 (c) (3) organization. Your contribution will help the real story to be told on overseas events, untainted by the dominant media. We provide the news other sources can't or won't tell you about.
Inatoday.com directly benefits you. Please provide us with your support.
You may contribute by credit card:
-- or by check to:
International News Analysis
2364 Jackson St. #301
Stoughton, WI 53589 U.S.A.
Terror, Gangs, Religious Fervor
…and the Tragedy of an American Family
March 18, 2003
By Toby Westerman
Copyright 2003 International News Analysis Today
www.inatoday.com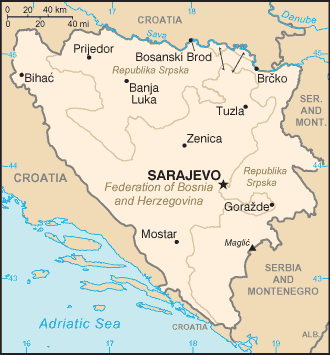 America's war with Iraq - according to U.S. plans - will produce a radically altered Iraqi society and social structure. The restructuring of Iraq will be another exercise in nation building, an attempt to mold a society according to the best intentions of the U.S. and its allies. After WWII the U.S. met with extraordinary success in rebuilding Germany and Japan.
Recent attempts at nation building, however, have been much less successful - even tragic.
The assassination last week of Balkan reform leader Zoran Djindjic stunned the world and brought home the brutal reality that after years of peacekeeping, murder, trafficking in women and children, and general mayhem still dominate much of the central Balkans.
A shocking -- but little noticed -- financial report may also shake the faith of millions of devout believers, both Protestant and Catholic, who follow a series of purported messages from the Blessed Virgin Mary in a small village in Bosnia-Herzegovina.
Bosnia is directed by a U.N. approved High Representative who oversees a Bosnian government divided up among Croats, Serbs, and Muslims. The arrangement goes back to the Dayton Peace Accords which ended the Bosnian civil war in 1995. NATO troops assist in maintaining order among the still distrustful ethnic groups.
A bank audit has linked a Croatian armed group - not unlike the gang that killed Djindjic - with powerful religious interests connected to the reported apparitions in Medjugorje, Bosnia. Material for the audit of Hercegovakia Banka was gained only through the use of armed troops, explosives, and blowtorches.
Hercegovakia Banka, a financial institution with branches across the nation, was taken over in 2001 by the High Representative of Bosnia, with control given to a Provincial Administrator, Toby Robinson.
Robinson's summary of her 90 page report is given on the High Representative's Internet site (www.ohr.int). Among her conclusions is that bank funds were used to finance the Bosnian Croat nationalist armed group, referred to as the HVO.
The HVO is the military wing of the Croatian Democratic Union, known as the HDZ, which demands an independent state for Bosnian Croats, and eventual union with nearby Croatia.
Robinson determined that "some of the shareholders (in Hercegovakia Banka) were using the Bank (sic) to fund what appears to have been a deliberate attempt to change the Constitution of BiH [Bosnia-Herzegovina] through illegal means." "Illegal means" in the Balkan region usually includes terror, assassination, and revolution.
The High Representative's Internet site also carries a news report which further elaborates on Robinson's findings. According to the news article, the Franciscan Order in Bosnia owned companies which were part of a chain of corporations diverting money from the budget of the Bosnian Croat governing entity, and funneling the money to the HVO. In turn, the HVO paid the Franciscans for "alleged service," according to the news report.
Hercegovakia Banka was founded in 1997 "by several companies and the Franciscan Order [in Bosnia], which controls the religious shrine in Medjugorje," according to the East European Constitutional Review (Vol. 10, No 2/3, Spring/Summer 2001). The Franciscan Order in Bosnia has long been associated with Croatian nationalism, as has the village of Medjugorje.
The purported apparitions at Medjugorje, which began in 1981 and continue daily, have drawn millions of pilgrims, and inspired millions more - both Protestant and Catholic.
The Pope has not approved Medjugorje, and a series of scandals and theological inconsistencies weigh against the devotion to Our Lady of Medjugorje ever being sanctioned. The bishop of the diocese of Mostar, which includes Medjugorje, declared in a recent press interview that Medjugorje "is not a shrine" but simply "an ordinary parish."
The conclusions of Robinson's 90-page report - both given in her summary and reported in the Bosnian press - come as no surprise to a California businessman, who has made a personal crusade to expose religious fraud, especially in regard to Medjugorje.
Phillip J. Kronzer established the Kronzer Foundation -- www.kronzer.org -- to reveal and remedy instances of cult abuse and religious fraud.
Kronzer's interest in cult abuse and religious fraud began with his own family's tragic encounter with a series of religious mystics claiming devotion to Medjugorje, and ended with his family members alienated from each other, and his own marriage broken by divorce.
Although legally divorced, Kronzer - who never remarried - is determined to regain his wife, Ardie, whom he believes is a victim of cult activity.
The sixty-eight year old Kronzer has had success in his efforts against religious fraud. He exposed the Denver-based seer Teresa Lopez as a fraud, and produced a video concerning religious and financial abuses.
Kronzer's exposé of Medjugorje in many respects anticipates the findings of Robinson's audit by nearly five years.
The production of the video was done at some personal danger - threats from Croatian gangs forced Kronzer and his film crew to flee into a non-Croatian section of Mostar.
The British Broadcasting Corporation reported the safe return of two reporters who were working with Kronzer after they had been reported missing. The vehicle in which the two had been traveling, however, was found abandoned with windows smashed "near the village of Medjugorje."
The Kronzer Foundation invites the reports and accounts of those affected by cult abuse.
Copyright 2003
International News Analysis Today
INA Today.com
2364 Jackson St. #301
Stoughton, WI 53589 U.S.A.
Unique sources -- unique information -- news and analysis you will find nowhere else.
Read International News Analysis.
Order 12 issues of International News Analysis for only $29.95 (U.S. funds; $39.95 Canadian and overseas).
Send subscriptions to:
International News Analysis
P.O. Box 5182
Rockford, Ill. 61125 U.S.A
Return to INA TODAY.com homepage